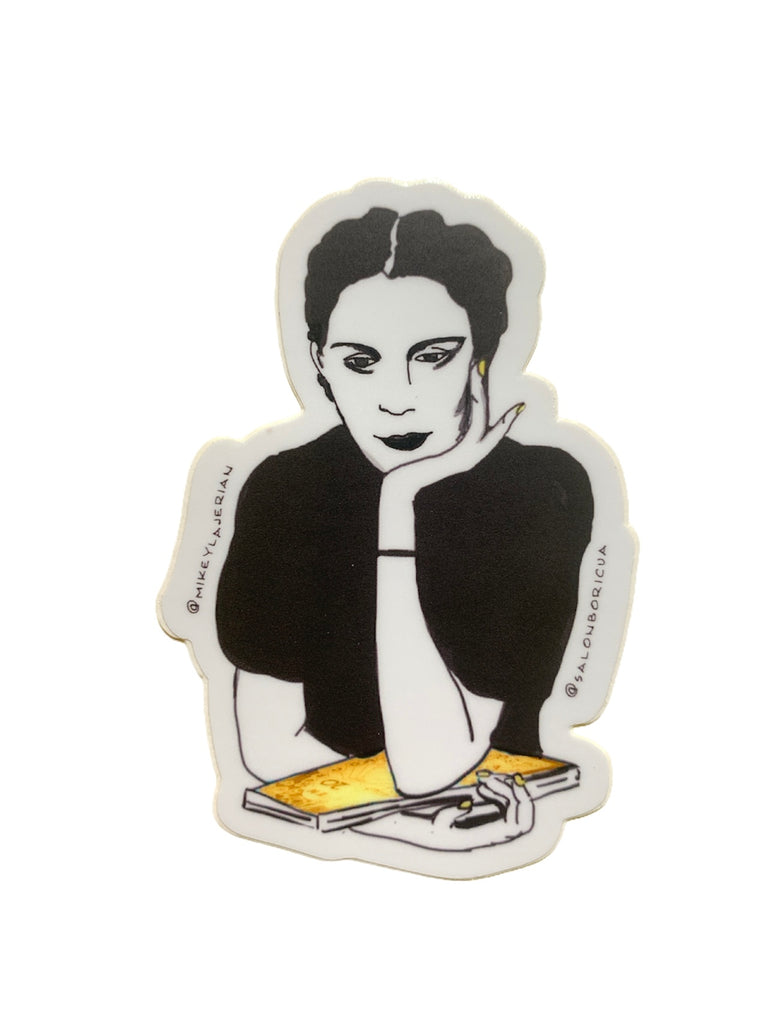 SALON BORICUA - Julia De Burgos
Julia Constanza de Burgos García was a poet, feminist, journalist, teacher and dramatist, born in Carolina, Puerto Rico. Julia was a graduate teacher at the University of Puerto Rico. Her first book of poems entitled "20 Surcos" contains one of the most recognized poems by Puerto Ricans: "El Río Grande de Loíza". It is said that Julia financed the publication of the book with her own salary to pay for her mother's cancer treatments. De Burgos also defended the independence of the island throughout her life. 
Printed in premium plastic vinyl with laminate to protect against scratches, sunlight and rain. Die-cut.
Designed by Mikeyla Jerian Maldonado. 
Size: 2.25 x 3.3" in
--
ulia Constanza de Burgos García fue una poetisa, feminista, periodista, maestra y dramaturga, natural de Carolina, Puerto Rico. Julia era maestra normalista graduada de la Universidad de Puerto Rico. Su primer poemario titulado "20 Surcos" contiene uno de los poemas más reconocidos por los puertorriqueños: El Río Grande de Loíza. Se dice que Julia financió la publicación del poemario con su propio sueldo para pagar los tratamientos de cáncer de su madre. De Burgos también fue una fiel defensora de la independencia de la isla durante toda su vida. "A mi me riza el viento a mi me pinta el sol."
Impreso en vinil plástico premium con laminado de protección contra rayaduras, luz solar y lluvia. Troquelado.
Diseñado por Mikeyla Jerian Maldonado.
Tamaño: 2.25 x 3.3" pulgadas
---
---
More from this collection